Randy Lewis Brown - Songwriter
"I love good stories, stories that make me think, that stick with me and haunt me." 
---
Songwriter and poetic lyricist Randy Lewis Brown was born in Louisiana, spending his childhood in pre-civil rights Shreveport, immersed in the formative strictures and music of the church. He discovered a new world when, at twelve, his family moved to Houston.  It was there, as he grew to adulthood, that he began to connect with and make music in a deeper sense.  Having grown up in both Louisiana and Texas, Randy Lewis Brown's tales are those of hard resignation with the occasional dappled sunlight of wounded optimism shining through.  You might say Randy Lewis Brown's songs are as windswept as his heart. Having been tapped to open for Ray Wylie Hubbard, David Olney, Jim Lauderdale and more, Randy Lewis Brown has played across the country -- extensively through Texas, Arkansas and Louisiana -- including to multiple festivals like Tommy Alverson's Family Gathering and the South Florida Folk Festival.
During his formative years in Texas, he was offered a $10 guitar a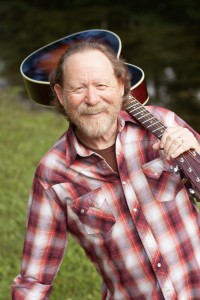 nd lessons for  $1 a week by an older teen in the church, and he was instantly and irrevocably hooked. By 14, he was a budding songwriter and went on to form bands all throughout his teen years, dedicating himself in earnest to songwriting, even delivering lyrics in high school English class.  A few years later, moving to East Texas with his bride to start a family where most of the counties were dry and the bars to host gigs were few and far between, Randy Lewis Brown began hightailing it across Texas on the weekends to as many welcoming stages as he could find. After forming a duo with John DeFoore, and then adding cellist Dirje Childs to form the trio Jealousy Motel, he eventually shifted focus to solo projects, although Dirje Childs reappears on his newest album.
Randy Lewis Brown sets his lyrical poetry to Americana music.  His new release, Red Crow (Berkalin Records), was produced by Merel Bregante at Cribworks Audio in  Texas.  Bregante was named CMA of Texas's Producer of the Year in 2019, producing all but one of that year's winning albums.  Red Crow is Randy Lewis Brown on acoustic guitar, banjo, vocals, Merel Bregante on drums, percussion, harmony vocals, Michael Dorian on electric guitar (Sarah Pierce Band), Riley Osborne on Hammond B3,  Mark Epstein on bass, Dirje Childs on cello,  Cody Braun (Reckless Kelly) on fiddle, harmonica, mandolin, with Sarah Pierce also on harmony vocals.  
Red Crow is thirteen original songs (four co-written: with Terry Klein, Richard Paul Thomas, Randy Palmer, Jim Gilmore) that produce an instantly familiar feel in spite of the unusual stories they often tell.  The showcase of talented musicians on the album bring the lyrical messages into sharp focus through a display of synergistic camaraderie.  "One Horse Town" is a haunting, relatable tale of a man who's slept alone for thirteen years, watching a dead horse decay out in the neighboring meadow with buzzards circling.  The imagery of the sleepy despair of small town living brings Randy Lewis Brown's storytelling abilities to light.  The rhythm is a deeply funky groove that serves to accentuate the sense of entrapment.  "Not Ready Yet" is a shuffle groove and a metaphor of a whippoorwill and a mockingbird, an elderly couple, and really all of us whose stories aren't ready yet.  On the title track the lyrical imagery will capture your attention as the red crow leaves calling cards and an uncomfortable truth is revealed.  On "Barlow Road" you'll be drawn to the low, emotive cello the recounting of the story of pioneer hardships.  
Randy Lewis Brown's previous pair of albums, Dream Big (2007) and But Wait, There's More (2013) drew crowds during his traveling shows, creating core fans along the way.
Brown has been a repeat winner of songwriting awards over more than two decades: including the New Traditions Award (2007), TIME Songwriting Competition (2009), Poor David's BW Stevenson Songwriter Contest (2014), FTR Willows by Water (2017), South Florida Folk Festival (2018), and he was the regional finalist at Kerrville in 1995 and 2009.